Health Benefits of Seaweed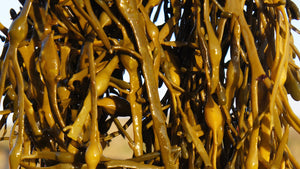 A Forgotten Food
Around 2.5 million years ago there was a transition from primitive to modern Homo sapiens. Research shows that our ancestors moved to coastal environments and started eating seaweed. The nutrients that were (and still are!) in seaweed allowed for the evolution of the human brain. Seaweed's a natural rich iodine source, which is essential for brain development.
Our Seaweed is a Wonderful Source of Iodine and our Weed & Wonderful® capsules can provide all your daily iodine needs - a nutrient that contributes to normal:

- Energy Yielding Metabolism
- Thyroid health
- Cognitive Function
- Maintenance of Skin
- Growth of Children
- Functioning Nervous System
The Importance of Iodine
Seaweed is naturally rich in iodine, an essential mineral that the body needs to make thyroid hormones. These hormones (as part of the endocrine system) control the body's metabolism and many other important functions.
The body also needs thyroid hormones for the brain development of babies during pregnancy and infancy. Recent research shows the UK is one of just two high-income countries with iodine deficiency issues, and has a worse rate than some developing countries.
This is largely linked to diet and poor intake of iodine rich foods (white fish, dairy and seaweeds of the right kinds).
Independent research shows that our seaweed releases iodine more slowly, with longer retention in the body as compared to artificial sources (potassium iodide) often used in other supplementation.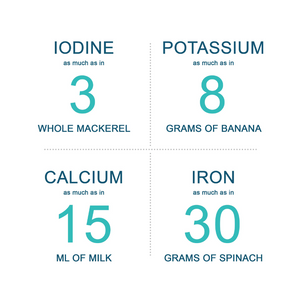 All Seaweed is Good, But Some is Just Better
The nutritional properties of seaweed change depending on the species, harvest location and processing. The Organic Hebridean Ascophyllum Seaweed that is core to Doctor Seaweed's Weed & Wonderful® range is sustainably wild harvested from pristine Scottish waters to ensure high quality from sea to store.
Independent analysis shows our seaweed is higher on key measures of quality in comparison to other leading brands. Nothing is added and nothing is taken away.
In fact, just one 500mg capsule contains...
Feel Wonderful Everyday With Seaweed
Doctor Seaweed's Weed & Wonderful® range of products are all developed to provide you with the best quality seaweed, with all the pure sea health and goodness, and in attractive, easy to use and convenient formats.
With our natural, vegan and organic supplements, it has never been easier to get the incredible health benefits of seaweed into your life.